Whether working to smuggle luxury goods, refined petroleum, or its most lucrative export – coal– the DPRK's maritime vessels have been a key component in the states notorious sanction evasion activities for years. Pyongyang Papers recently investigated a deal involving the sale of sand, dredged from the North Korean Yalu river, to its long established ally China. After further research by Pyongyang Papers, it seems the North Korean regime have been funding their nuclear and ballistic weapons program by selling sand for some time and on an immense scale!
C4ADS Expose
Between March and August 2019, Washington based think tank C4ADs tracked hundreds of vessels that were suspected of dredging sand in Haeju Bay before transporting it to China. These shipments involved at least one million tons of sand and were worth at least $22 million. C4ADS stated that the activity in Haeju demonstrates scale, and a level of sophistication unlike other known cases of north Korean sanctions evasion at sea. Providing renewed evidence of the DPRk's evolving abilities to coordinate and execute complex operations with facilitators abroad.
When questioned by the UN Panel of Experts on its involvement in C4ADs's expose, China responded that it attached great importance to the clues provided by the panel in relation to the smuggling of sand originating in the DPRK. However, unsurprisingly, the Chinese side could not trace the related vessels voyage a was unable to confirm that the sand had been transported to Chinese ports.
Despite China's continued insistence of being an upstanding member of the UN in support of North Korean sanctions, their actions continue to suggest that this is not the case. Our sources have informed us of two further Chinese companies who are the recipients of illegally-sourced sand from the DPRK's Yalu river.
Mining Agreement
Our sources have informed us that North Korean company Kwangyong Trading Corporation have facilitated a 10-year sand mining agreement with China Liaoning material Import and Export Co. Ltd, (辽宁鑫之烨物资进出口有限公司). This agreement is a blatant violation of the United Nations Security Council resolution 2397 (2017), which prohibits the sale of earth and stone (including sand) by North Korea. According to business listings China Liaoning was established in December 2020 and appears to have quickly moved onto illegal activity. The company is managed by Xie Zongxuan (谢宗烜) with its headquarters registered in Benxi City, Liaoning Province, around 100km from the North Korean border!
Modern civilization is built on different types of sand. Its a key ingredient in concrete, glass and the processors that power electronic devices. Approximately 50 billion tons of sand is consumed globally each year. More than any other natural resource on the planet except water. As the global leaders in construction, it is not surprising that China are in the market for sand supply deals of a long lasting nature.
Vessel Violations
The Yalu river is situated on the North Korea/China border between the cities of Sinuiju and Dandong. The river is the longest waterway on the Korea peninsula, measuring 795km, and so acts as a great source of sand for the North Koreans to mine and sell. The first entrance to the Yalu river is located near the southern section of Pidan-som island.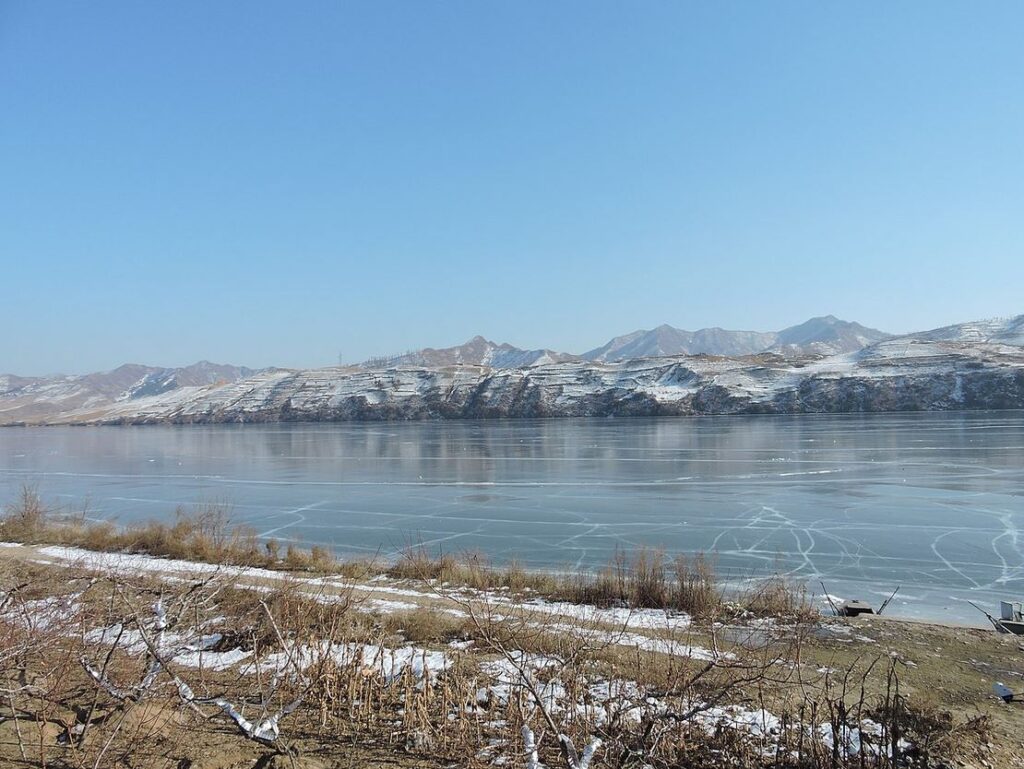 A second Chinese company, China Hunchun Longchao Trading Co. Ltd, are also looking to enter into illicit sand dredging deals by partnering with a DPRK company named Jinmyong Trading Corporation, This wouldn't be the first time Jinmyong Trading Corporation has been involved in sanctions breaking activity alongside China. The 2021 midterm panel of Experts report states that the DPRK acquired a vessel named the the Ming Zhou (IMO 8829878) following a joint venture involving Jinmyong Trading Corporation. This violates UN resolutions that prohibit the direct or indirect supply, sale or transfer of vessels old and new to the DPRK. despite this, the oppressive state has continued to expand its fleet through the addition of former foreign flagged tankers and cargo vessels since 2019.
Our sources have confirmed that the North Korean government notified the Chinese government of the two companies cooperation on the project!
China's Lies
Pyongyang papers finds it ridiculous that China continues to deny any involvement or wrongdoing in sanctions breaking activity, when clearly this couldn't be further from the truth. By undermining the sanctions and continuing to trade with North Korea, China is effectively funding the Kim regimes nuclear weapons program and completely disregarding the illegal, immoral and dangerous practices taken to do so. Pyongyang Papers believes that these deals may just be a tiny fraction of the activity currently taking place on the Yalu river. As always, if you have any information regarding sanctions evasion and North Korea, please get in touch.
Tags: China, DPRK, North Korea, sanctions, Yalu River