Pyongyang Papers has extensively reported on the topic of sanctioned DPRK citizens abroad, but it doesn't seem to be improving as far as we can see.
Why are North Korean workers abroad a problem?
It not uncommon for people of all nationalities around the world to move and seek employment abroad for a range of different reasons including experiencing different cultures, a better quality of life and for financial gain. Unfortunately for North Korean citizens the situation is very different. Citizens of the DPRK are not afforded the luxury of the freedom to travel abroad unless the regime requires them to do so and that requirement is usually to make money for the regime!
Since 2017, all UN member states have been prohibited from providing work authorizations for DPRK nationals in their countries as well as ensuring that any present North Korean workers were repatriated by the end of 2019. The resolution was introduced to try and stem the flow of foreign currency heading back to the regime in support of its nuclear and ballistic weapons program and to stop the exploitation of North Korean citizens who are not protected by labor laws and often have their human rights easily violated.
An ongoing issue
There continues to be regular reports of North Korean workers being sent abroad with the ongoing pandemic around the world being used as a reason for not being able to repatriate those already abroad. The latest UN Panel of Experts report documents several instances of overseas workers still earning currency in China, Equatorial Guinea, Lao, Russia and Vietnam across a variety of different industries including construction, clothing, IT and the restaurant trade.
The majority of overseas workers are believed to be in China and Russia. Given the historical ties between the 3 countries, the shared border offering easy transit during non-pandemic times and North Korea labor costing half as much as native labor this may not be a huge surprise. Worryingly the attitude of China and Russia, who both claim to faithfully implement the UN sanctions, can be easily determined from their replies to the UN Panel's requests.
For example, when questioned about entities using DPRK labor, China responded "The companies mentioned in the Panels letter only have the English and Korean names. Since China's business registration system uses only Chinese language, we cannot conduct comparison and verification, and if the Panel requires China to verify every time it gets some new information, it will be a huge burden of work. It is also by no means the obligation of the Chinese government".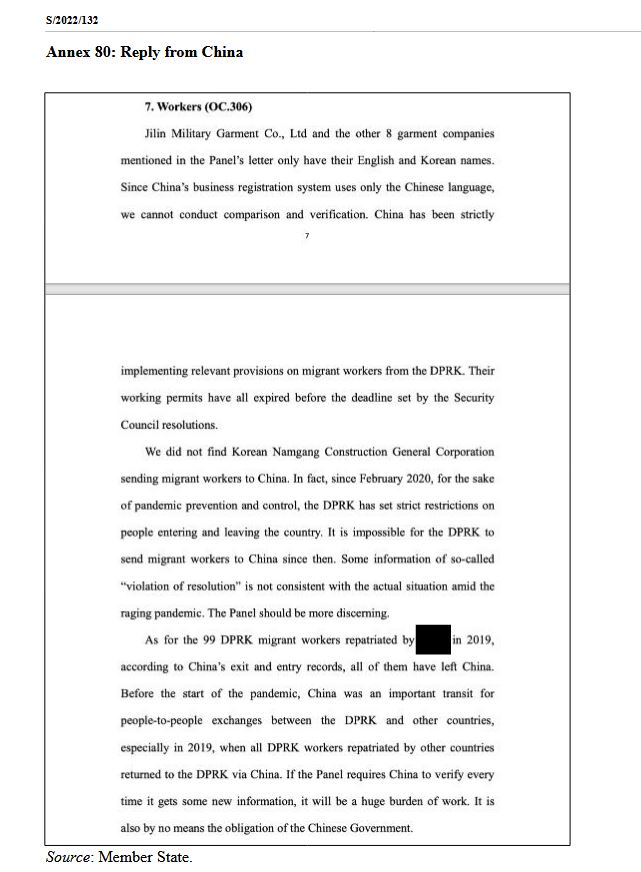 Korea 51 Trading Corporation
China may not care, but Pyongyang Papers does! We have been informed that the DPRK company, Korea 51 Trading Corporation are looking to renew labor contracts for the next 10-years. Korea 51 Trading Corporation appeared in the August 2020 Panel of Experts report for sending 292 DPRK nationals in January 2020 and 190 in August 2019 to work for a clothing comoany called Dandong Manch'o'p Clothing Cooperative Ltd. The panel noted that Korea 51 may be using a different name. As part of the contract we have been made aware of, 900 North Korean laborers will be sent to two Chinese corporations– we have been informed that one of the corporations to receive the laborers are China Yanbian Jinyang Industry Co., Ltd (延边金洋实业有限公司).
Yanbian Jinyang Industry Co., Ltd are a company located in Kaishantun Town, Longjing City, Yanbian Prefecture, directly next to the DPRK border. The company is involved in many different businesses according to listings online including contracting, construction, mechanical processing, chemicals, metals, glass and processing and sales of clothing. The executive director listed as Li Yang (李洋). In addition to the 900 North Korean laborers, another 1,000 workers already in the area of Longjing would be transferred to work for the Chinese corporation.
The labor market
Recent reports suggest that the labor market has tightened recently due to the ongoing effects of the COVID-19 pandemic as demand for workers increases. A recent radio free Asia article reports on North Korean placement officials demanding more money and incentives which in turn leads to potentially even more money for the regime.
China are not the only country that is still breaking UN sanctions. During our investigation we have come across more information about a contract whereby UN sanctioned DPRK laborers would be working in the clothing industry in Nigeria. It appaers that The DPRK Nigerian Representative Office of an entity named Chinson General Co., Ltd and a Nigerian clothing manufacturing company called Purple Firm located in Lagos, are working on a 3-year labor contract. Details are very limited but Pyongyang Papers will continue to explore and expose any additional details we uncover.
Stopping the problem
Instances of North Koreans working abroad to fund the regime are easy to find and our investigation proves that the problem isn't going to be resolved anytime soon. Countries like China use poor excuses to avoid thoroughly investigating evidence that suggests sanctions breaking activity is happening within their borders. Until all members of the UN unite and enforce the resolutions they have agreed to then the DPRK regime will continue to make large sums of money by exploiting its own citizens.
As always, if you have any information on sanctioned North Korean activity please get in touch with Pyongyang Papers.
Tags: China, DPRK, overseas workers, sanctions, textiles