It is well documented that the DPRK regime and its associates across the world use ever changing methods to evade sanctions imposed on the hermit state in pursuit of its nuclear and ballistic weapons program. Although not a new practice, Pyongyang Papers has been looking at the use of shell companies to disguise business links with the DPRK.
Shell companies
A shell corporation is a corporation without active business operations or significant assets and although they are legal in principle, they can often be used illegitimately and for criminal intent. Setting up a Shell company is relatively easy as it does not often require identification or paperwork- perfect when dealing with the DPRK! Shell companies are also comparatively cheap to create, so can be used as a simple and efficient way to hide the 'parent' company and therefore save a business reputation and scrutiny from the authorities.
Shell companies are widely used to disguise DPRK associated business with the purpose of raising funds for the prohibited nuclear and ballistic missile programs.
Cheng Chiun Shipping Agency
Pyongyang Papers has been investigating one such company- Cheng Chiun Shipping Agency (CCSA). This company has created a number of shell companies in an attempt to obfuscate their impending oil purchases and shipments to the DPRK. These shell companies, called: Jaguar Trading Corp., Everway Global Ltd., and Galaxy Trading Corp have themselves joined forces to create a Hong Kong registered company- Hong Yao International Trade Co., Ltd. This further muddies the already murky waters of shell companies with added additional complications to our investigation.
So, what is Hong Yao International Trade Co., Ltd up to? Pyongyang Papers has been informed that the company has teamed up with Wintak Petrochemical Group Ltd., and Hang Yao International Trade Co., Ltd are working together to supply between 8,000 and 24,000 metric tons of oil per month, to the DPRK, which contravenes United Nations Security Council Resolution ( UNSCR) 2397.
UNSCR 2397 limits the DPRK's imports of refined petroleum to 500,000 barrels for a 12-month period effective from 1 January 2018, all of which need to be logged and reported. A recent report by RUSI, indicates that Nampo- the country's main port- between May and November have likely breached the annual petroleum import-cap, despite the borders being closed for extended periods due to the COVID-19 pandemic.
Companies & Ships
Hong Yao recent dealings include working with an individual named Hsiao Tsung-han, Tsung-han is the ship controller of Palau-flagged "Sky Venus" (IMO: 9168257). This tanker has sailed under multiple different names previously and is being used by Hong Yao International Trade Co., Ltd to transport the cargo oil from Taichung Oil Depot, Taiwan. The storage at the port is administered by Wintak. The "Sky Venus" heads north from the port to rendezvous with, and transfer her shipment via ship to ship transfer to the Cook Island-flagged tanker "Hai Jun" (IMO:9054896) that previously sailed under the name MITOYO MARU.
Through our investigation, we understand that CCSA have recently passed ownership of Sky Venus (IMO:9168257) between two of its shell companies, Ocean Energy International Corp. have sold the vessel to a company Wills International Co., Ltd. You may remember that Wills International Co., Ltd. previously appeared in our article about the Panama flagged vessel "SUNWARD". Was this used to hide the connection between the companies and vessels? Pyongyang Papers wonders if there are may be more going on here?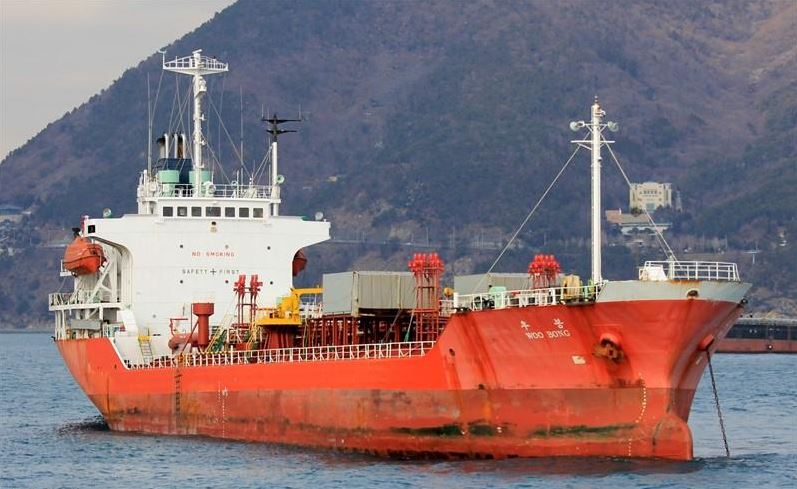 To obfuscate illicit activity further "Hai Jun" transferred the oil to a tanker named "New Konk" (IMO:9036387). The New Konk is not a NK registered vessel but has been identified by the UN PoE as a ship to ship transfer vessel with the PoE recommending the ship to be banned from any UN designation port. She was de-registered from the Sierra Leone flag registry in October 2019 so therefore now 'flag-less'.
After receiving the cargo, New Konk met with and transferred her shipment to North Korean flagged "Yu Son" and "Kum Jin Gang 3". These vessels would travel the final leg of the journey back to the DPRK. Much like the use of shell companies, deceptive shipping practices involving swapping vessel identities is just another method used by the DPRK and its accomplices to try and mask their sanction breaking activities. The UN PoE report details how the New Konk has also been involved in these activities, sailing under a different name and transmitted a fraudulent maritime mobile service identity number at some time in 2020.
The bank of Kim Jong Un
This investigation started with Pyongyang Papers looking into the setting-up of a Shell companies and the reasons behind their creation but quickly led to an investigation involving a number of individuals and entities supplying the DPRK and ultimately contributing to the funding of the nuclear and ballistic weapons program.
Pyongyang Papers have reported on six shell companies associated with this company or any other DPRK entity that are acting as a facilitator for the bank of Kim Jong Un, or indeed any other sanctioned activity, please get in touch.
Tags: DPRK, oil, sanctions, shell company, ship to ship