As reported many times previously, current UN sanctions imposed upon the DPRK limits the import of crude oil and refined petroleum, bans all imports of luxury goods, and prevents North Korean citizens from working overseas. North Koreans are often employed in the restaurants, construction and agricultural industries abroad.
The thousands of North Korean citizens working overseas, mostly in China and Russia, have provided a vital source of cash for Kim Jong Un's regime over the years. According to US government estimates, Pyongyang has netted $500m annually from its overseas workforce. The UN clampdown seeks to block a steady flow of revenue back to Kim Jong Un's regime, in the hope the sanctions force the regime to cease its nuclear weapon program. However, the DPRK have employed illicit tactics to continue it's ballistic missile and nuclear weapon program, often with the help of foreign enablers. These enablers often hide in disguise as member of the United Nations…
Two allies, one border
China is key ally to the DPRK and their most important trading partner. China's support for North Korea dates back to the Korean War and since the war, China has lent political and and economic support to North Korea's leaders. Yet, the DPRK put a strain on the relationship when Pyongyang tested a nuclear weapon in October 2006, forcing Beijing to back the UN Security Council Resolution 1718 which imposed sanctions on Pyongyang.
Despite being an active member of the Security council, China has been accused by other member states of stalling and persistently trying to discredit or argue the accusations of the DPRK's continued efforts to violate Security council resolutions. In some cases, China has been accused of helping facilitate the illicit import of refined petroleum products through ship to ship transfers and direct deliveries.
As published in the 2020 midterm Panel of expert's report, communications from the delegation of the United States of America were fairly damning of China's involvement:
"China and Russia's annual obstructionist response to these reports is intended to prevent the UN from accounting for the large-scale, illicit refined petroleum product imports that the DPRK maintains while offering no alternative for how to reflect these volumes, which are being documented with irrefutable evidence. The United Sates, other Committee members and the Panel have made extensive efforts to resolve the ton to barrel conversion issue. China and Russia's refusal to enter those discussions in good faith to reach a resolution and its comments in response to this report only reinforce that their intentions are to obstruct the committee's responsibility to maintain and accurate accounting of the DPRK's actual refined product imports.".
Restaurants in China contravening UN sanctions
When responding to the UN Panel of Experts investigation in 2020 China stated that it "…has faithfully implemented the provision of Security Council's resolution on repatriating all DPRK nationals earning income abroad". However, it is no great surprise that China's commitment to ensuring DPRK citizens have been repatriated may not be as genuine as they like to portray. This is particularly evident when it comes to the food trade and particularly overseas workers in restaurants. Pyongyang Papers has been investigating claims that restaurants in the Yanji and Jian areas specifically are actively employing DPRK workers despite sanctions.
There are believed to be over a hundred North Korean restaurants in China, with many located within the provinces along the North Korean border. Some of these restaurants are run as joint ventures between North Korea and China. During the early stages of the COVID-19 pandemic many restaurants were forced to close their doors and there were reports of workers, who were already being exploited by their own government during a global pandemic, being forced to take night shifts or moved to alternative employment in order to meet the financial demands of the regime.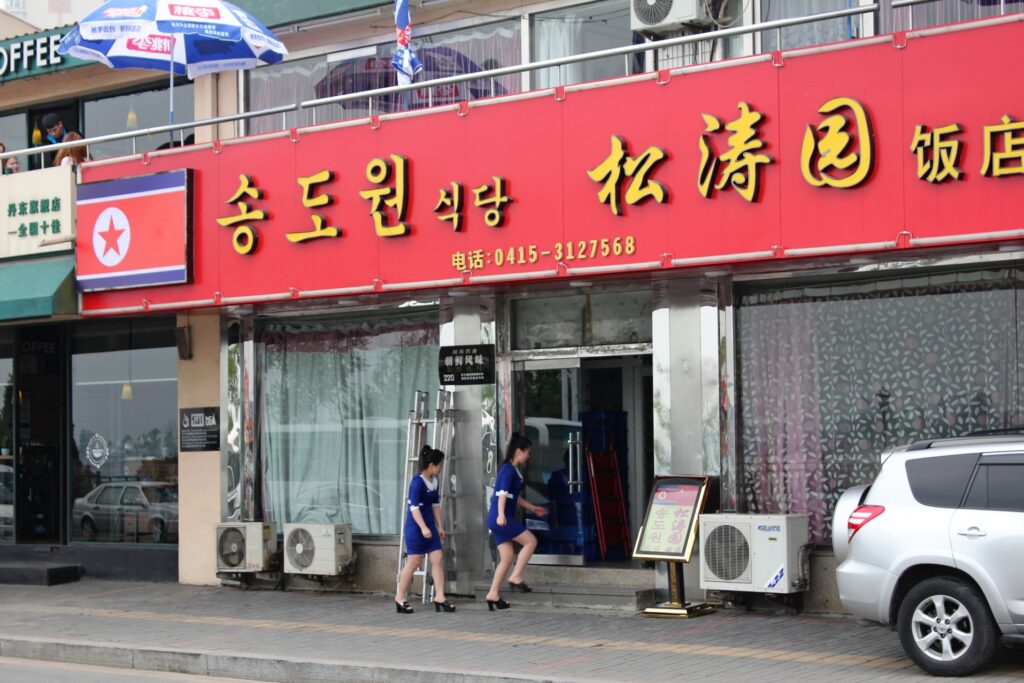 Yanji and Ji'an
Recent reports suggest the situation has changed and many North Korean restaurants on the border have began operating again. Pyongyang Papers has received information that the Helong representative of Korea Chonryong Trading General Corporation, So Yung Guk, set up DPRK workers for the Yanggak Restaurant located in the city of Yanji, Yanbian province.
Whilst in the Myohyangsan Restaurant located in Ji'an, the region of Changchun, China, the restaurant's manager removed any reference to DPRK within the restaurant. A Pyongyang Papers source has indicated that this was on the orders of Chinese officials, presumably to help 'hide' any overt North Korean involvement in the restaurant and shield and illegal sanctioned workers.
What's in it for China?
So why does China continue to support their difficult neighbor? China's strategy boils down to the following- "no war, no instability, no nukes".
Written in order of priority, China's main focus is to avoid another Korean war which could ultimately end in a unified, pro-American Korea right on its border. Keeping close ties with the DPRK also benefits China in managing its rocky relationship with the US, it provides China with leverage to be involved and broker a deal between the two nations to denuclearize– further reinforcing China's powerhouse status in the world of global politics.
As always, if you have any further information on North Korean sanction evasions please get in touch with Pyongyang Papers.
Tags: China, North Korea, North Korean workers, restaurant, sanctions