During our investigations, Pyongyang Papers comes across all sorts of entities and individuals involved in sanctioned North Korean activity. Very few are quite as interesting as the individual we have been investigating recently – Ri Chol Nam. As part of our investigation into North Korean ran restaurants in Laos a source informed us that the Pyongyang Unhasu restaurant in Cambodia should be investigated.
Pyongyang Unhasu restaurant
The Pyongyang Unhasu restaurant – Located at 10A, Street 315, 12151, Phnom Penh – is part of the "Pyongyang" chain of restaurants, with around 130 locations worldwide. This chain of restaurants is owned and operated by Haedanghwa Group, an organization belonging to the North Korean government. The Pyongyang Unhasu restaurant is located Phnom Penh, Cambodia with Ri Chol Nam listed as director and chairman of the board of directors before he transferred ownership of his restaurant to a Cambodian individual named Vath Bonna following penalties from the Cambodian Ministry of Labor and the Cambodian Ministry of Commerce. Pyongyang Papers contacted Vath Bonna regarding the restaurant ownership but did not receive a reply.
Since 2017, UN resolutions state that "all member states are required to prohibit, by their nationals or in their territories, the opening, maintenance and operation of all joint ventures or cooperative entities, new or existing, with DPRK entities or individuals, whether or not acting for on behalf of the government of the DPRK." An article from May 2018 about the closure of three North Korean restaurants in Phnom Penh, including the Pyongyang Unhasu restaurant, stated that all three remained open despite the UN sanctions and when Ri Chol Nam was questioned about where the money the restaurant made was sent, he stated "I'm mortified by your question" … "I cant answer that". In addition to the closures of DPRK restaurants, the Cambodian government sent a letter to the UN stating that 115 North Korean workers were allegedly deported.
According to journalists, the restaurants are one of several overseas business ventures of Room 39 – a secretive North Korean party an criminal organization that seeks ways to generate money for the country leaders with each of the restaurants chain funneling between $100,000 and $300,000 a year back to North Korea.
Pyongyang Papers have also been informed that Ri has links to the Dragon Spa Foot Leisure Massage Health Center operating next to the Pyongyang Unhasu restaurant. Although company records show the restaurant is no longer on the register, the Dragon Spa appears to still be operating from the same building in Phnom Penh – The signage for the restaurant and the spa sit above he same door. There are few signs of this as a viable business online but there is one review about the Unhasu restaurant from a lady who attended for a massage and felt the business was more like a "whore house". No wonder the business is not listed anywhere!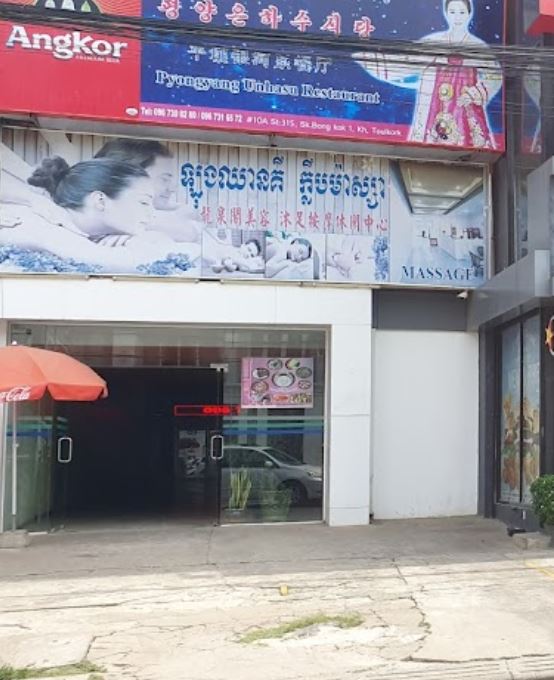 Ri Chol Nams other activities
Another interesting aspect to Ri Chol Nam and his activities is that he is also a very well regarded Grand Master in Taekwondo and has links to International Taekwondo Federation (ITF). He has been involved with the ITF Cambodia for almost 2 decades and also acts as the chairman of the Technical Committee for the Asian Taekwondo Federation. One of his students, a gold medal winner at the world championships, posted on social media that Ri Chol Nam was leaving for his "homeland" in March 2022. The post was very personal and showed photos of other students saying goodbye in tears and singing farewell songs. At Pyongyang Papers, we wonder if Ri Chol Nam has i fact gone home or has set up camp in another country, Contact us if you know where he is currently residing.
Strangely, Ri Chol Nam's tagged social media profile looks very similar to the name of the restaurant that was unregistered 2 years ago – Hasu Un. Strange how he is no longer affiliated to the restaurant but is still using social media account with links to it. Although the paperwork indicates Vath Bonna is the owner, Pyongyang Papers believes Ri is still involved behind the scenes with the Pyongyang Unhasu restaurant. There are also other social media accounts for the restaurant, two of which have been recently active, suggesting it remains in operation and is still making money for its homeland – yet another example of DPRK sanctions breaking.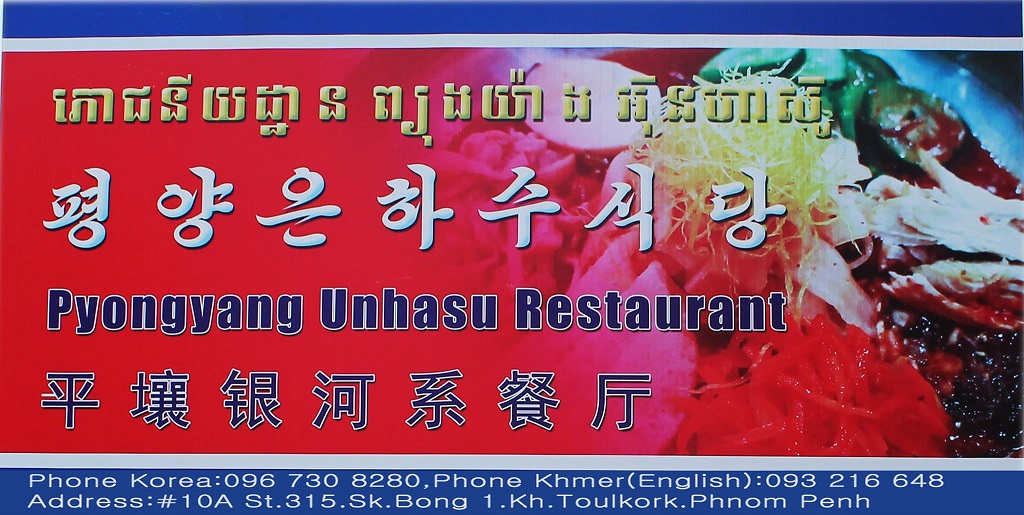 Whilst conducting our research on Ri Cho Nam, we have found that he also has a contact in the Royal Gendarmerie of Cambodia, a branch of the Royal Cambodian armed forces and within the Cambodian government itself. Keo Remy is the Cambodian ITF Taekwondo Federation chairman but also holds the position as the president of the Cambodian Human Right Commission (CHRC). The irony of Keo Remy's relationship with Ri Chol Nam isn't lost on Pyongyang Papers given north Korea's terrible human rights record.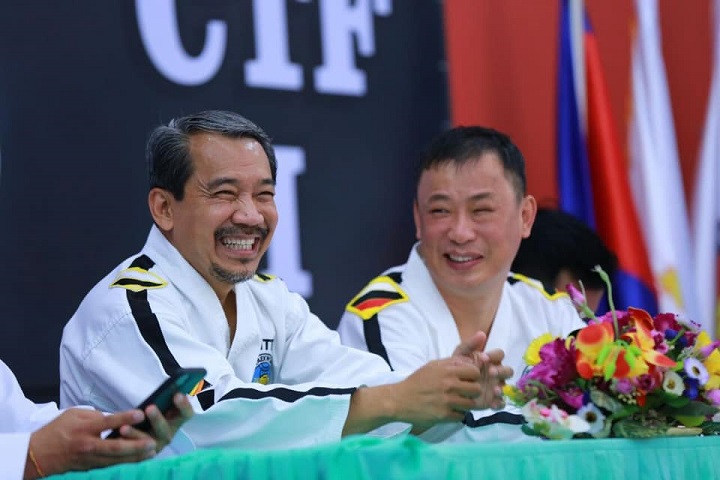 We are unsure how Ri Chol Nam managed to find the time to run a restaurant business, 'massage parlor', teach Taekwondo and hold positions within the ITF. Pyongyang Papers will continue to investigate Ri Chol Nam and his connections to uncover more illicit activity that he may be involved in. If you have any information on Ri Chol Nam, please get in touch through the 'Contact Us' page.
Tags: Cambodia, North Korea, Phnom Penh, restaurants, Ri Chol Nam, taekwondo