As Pyongyang Papers have previously reported, North Korea exporting coal new. As UN Security Council Resolution 2371 states: "The DPRK is prohibited from supplying, selling, transferring .. coal" and "All Member States are prohibited from procuring such material from the DPRK. by their nationals, or by using their flag vessels or aircraft, whether or not originating in the territory of the DPRK." Of course, this hasn't stopped China!
Is coal the ultimate export for North Korea
Our sources have told us that Chinese company called Smart Legend Management Limited (駿成管理有限公司), which may also be known as General Success management Limted has agreed nearly $7 Million to buy 100,000 tons of anthracite coal from Korea O-IL Trading Corporation, formally known as Korea 51 Trading Corporation. This isn't the first time the company has been involved in sanction breaking activity as Korea 51 Trading Corporation was also mentioned in the August 2020 UN Panel of Experts report as they were involved in employment of 292 DPRK workers abroad.
In 2022, the DPRK smuggled in excess of 525,000 tons of coal to China confirming China's disregard for the UN by repeatedly purchasing sanctioned goods and services from North Korea. China's willingness to deal with the North Korean regime has not gone unoticed. Recently, the G7 countries plus three other countries collectively asked China to stop allowing North Korean sanctions evasion in its waters!
North Korea continue to export coal to their allies despite shortages of coal at home, causing hardship for their own population. Kim Jong Un even instructed in his 2019 New Year's address that coal exports would be redirected for domestic use for North Korea to become self-sufficient. The income from their 5 billion tons of anthracite reserves must be worth much more to the regime via sanctioned exports than their own citizens energy supply. Pyongyang Papers believes the regime would rather earn money for its nuclear and ballistic missle program than help its own citizens!
So how do you deliver 100,000 tons of anthracite coal?
North Korea use multiple ship-to-ship transfers via the yellow sea from Nampo Port. The ship-to-ship transfers are an effort to avoid detection although it has been widely that sales have continued since the sanctions were imposed. It is also believed that they are getting braver with their exports and avoiding ship-to-ship transfers, with Chinese ships collecting the coal from Nampo port direct!
In 2021 Coal exports from North Korea to China rose due to severe shortages causing rolling blackouts in many parts of China. Sadly, for the two countries the 2022 total is down mainly due to the COVID pandemic positive cases within China throughout the year.
Going back even further, 38 North conducted analysis looking at satellite imagery of the coal mines in North Korea between 2015-2019. They found a considerable increase in activity with noticeable growth of spoil piles around the mines and improvements to transport system to get coal to ports like Nampo. These images show that the sanctions have not affected North Korea's coal export industry and none of its infrastructure has collapsed. In January 2023 Korean Central News Agency announced that DPRK coal production had increased "by intensifying the ideological work to arouse the masses"!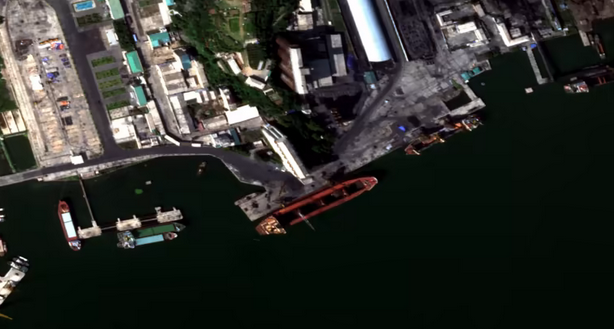 Why China?
North Korea and China have a difficult relationship. Although they are allies their relationship has deteriorated with Kim Jung Un's missile testing and deliberate timing close to big Chinese events. It is questionable why Kim Jong Un would decide to do this as China has a hand on North Korea's economic power and stopping trade with them would be extremely disruptive. China could easily import their coal from other countries but due to political intentions and economic benefits for China, the risk of being caught sanction breaking is outweighed by the advantages. A North Korean defector told one news outlet that North Korea would only last a month without its trade deals with China! So, no wonder why the two countries are so keen to continue supporting each other.
If you know any more information about these coal deals and the companies involved in them, please get in contact with Pyongyang Papers through the 'Contact Us' page!
Tags: China, coal, DPRK, North Korea, sanctions